Learn the Autism Behavior Strategies That Have Helped Many Families Like Yours
As an ABA therapist, I've been working with parents and families, and their children with autism, for more than thirteen years. And in that time I've learned many autism behavior strategies to help these families.
I've seen how frustrating it can be for these families to find ways their child will function better in their homes and communities. But I have also seen success stories, and shared in the excitement when children learn new skills and behaviors!
Parents often ask me questions like:
How can I help my child communicate their wants and needs?
How do I potty train my child?
What can I do about tantrums, biting, kicking, throwing themselves on the floor?>
Is there a way to help with their sensory integration needs?
How can I get my child to stop bolting?
What educational toys can help my child with autism?
How can I get my other children to understand how to interact with their sibling with autism?>
How can I get my child's behavior under control?
Is my child capable of learning?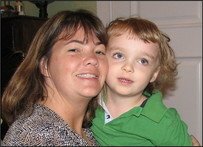 While a trained therapist is often the best option for your child, if you are unable to get an ABA autism home therapy program, I'll share the strategies I use so you can learn ways to implement them yourself.
And feel free to contact me to ask your questions and share your concerns.
Wishing you and your family the very best,
Dana Braden
ABA Therapist
Bradenton, Florida

ABA autism blog features answers to questions and news for families, caregivers and teachers who work with children on the spectrum.
ABA therapist shares autism success stories using aba behavior therapy
What is ABA? ABA therapist explains how Applied Behavior Analysis can help children with autism.
Learn how autism potty training works, using a behavioral approach to toilet training for your child with autism.
ABA Behaviorial Therapist answers your autism questions
ABA therapist shares autism behavior strategies to help your child with autism
Parents or famlies looking for autism toys that might stimulate and or encourage your child with autism
Is your child with autism bolting? Here are some strategies you can use.
Books about autism can be helpful tools to get a better understanding about the disability
What is Discrete Trial Teaching? Pros and cons from an ABA Therapy stand point
Does your child have unique behaviors? Here are some behavior characteristics of autism you can look for.
Autism types, let me discuss some of them with you.
Unique physical characteristics of autism that might be seen
Does your child have autism? Investigate autism treatments
Does your autisitc child have echolalia?
Teaching Children with autism
Children with autism can have social isolation
Pecs (Picture Exchange Communication System)
ABA Therapist offers advice autism support groups
gfcf diet , another approach to help your child with autism
Hyperlexia
Northern Speech Services, Inc.
High Functioning Autism, Mild Autism
autism music therapy
Sensory Integration Dysfunction
Behavior Modification Techniques,Strategies
Autism Statistics
Autism News
Famous People With Autism
Contact Me ABA Therapist answers your questions about aba techniques
Sample Privacy Act
Autism Merchandise Materials
Autism Education, what people should know
What Is Autism
Verbal Behavior, technique to teach children with autism
suggestions on how to help your child with autism
Would you like to share your knowledge about autism behavior strategies? Great, find out how you can submit your story or tip here.